Flexible stainless steel cable netting FERRULE TYPE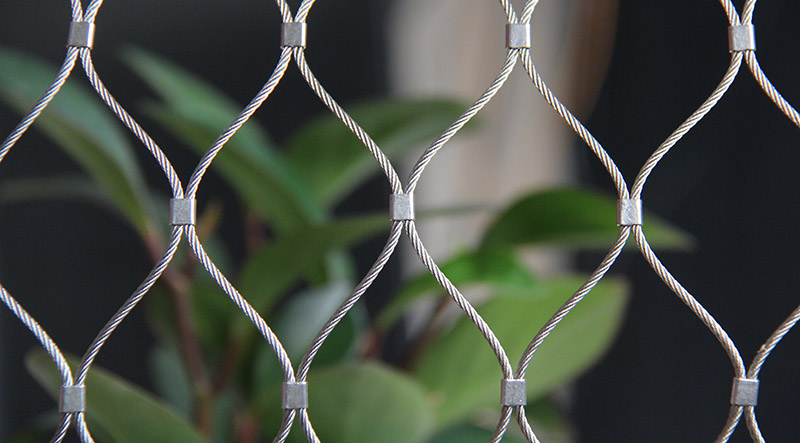 Stainless steel ferrule netting also named stainless steel ferrule mesh,stainless steel cable netting, zoo mesh,zoo netting,animal enclosure wire mesh,wire netting.
There are two parts of the stainless steel ferrule netting: stainless steel cable,ferrules.
The rough material of the stainless steel cable is stainless steel 304,316,316L,etc.
Galvanizing wire cable is also available.We can also offer other colors as well.
The material of the ferrule is stainless steel, aluminum,copper.
The cable structure is 7*7,7*19
The ferrule including open-end type and close-end type
The feature of open-end ferrule type rope mesh:
All the netting panel weave with one rope.And the overall appearance is pleasing as well as easy operation.
The feature of the close-end type
The mesh panel combined with many cables,the ferrules combines the cables very tight.there are many connector on the seal.
Here is the method to measure the hole aperture.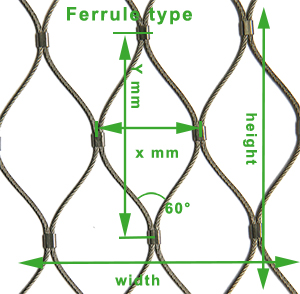 The advantage of the stainless steel wire rope mesh:
1.The netting is clipped to the cable.
2.The hole size and diameter can be modified.
3.It can be made to customer orders and statically tested – especially suitable for facades.
4.High strength, strong toughness, free-angles curving and fold, easy for transportation and installment.
5.Anti-corrosive, resist the rust, can be repeated use.
6.Resists chewing by rodents and other pests (tensile strength approximately 100-110,000 PSI)
7.This product can bear the heavy snow and the gale very much.
8.Without toxic material, safety, environmental protection.
Application
Balustrade infills
Fall protection
Helidek safety net
Security net
Separation mesh
Facade greenery
Parking garage facades
Decoration
Shopfitting
Flexible stainless steel rope mesh (Ferruled type)

Model

Rope structure

Normal Break

Wire Diameter

Hole Size

data

picture

Ibs.

mm

inch

mm

inch

BNF32120

7x19

1600

3.2

1/8

120x208

4.75x8.23

BNF32100

7x19

1600

3.2

1/8

100x173

3.94x6.81

BNF32090

7x19

1600

3.2

1/8

90x156

3.55x6.15

BNF24100

7x7

920

2.4

3/32

100x173

3.94x6.81

BNF24090

7x7

920

2.4

3/32

90x156

3.54x6.14

BNF24080

7x7

920

2.4

3/32

80x139

3.15x5.47

BNF24070

7x7

920

2.4

3/32

70x121

2.75x4.76

BNF20100

7x7

676

2.0

5/64

100x173

3.94x6.81

BNF20090

7x7

676

2.0

5/64

90x156

3.54x6.14

BNF20080

7x7

676

2.0

5/64

80x139

3.15x5.47

BNF20070

7x7

676

2.0

5/64

70x121

2.75x4.76

BNF16080

7x7

480

1.6

1/16

80x139

3.15x5.47

BNF16070

7x7

480

1.6

1/16

70x121

2.75x4.76

BNF16060

7x7

480

1.6

1/16

60x104

2.4x4.16

BNF16050

7x7

480

1.6

1/16

50x87

2x3.5

BNF12080

7x7

270

1.2

3/64

80x139

3.15x5.47

BNF12070

7x7

270

1.2

3/64

70x121

2.75x4.76

BNF12060

7x7

270

1.2

3/64

60x104

2.4x4.16

BNF12050

7x7

270

1.2

3/64

50x87

2x3.5