passageway
Author:admin Source:Baina Date:2014-6-30 9:40:05 Hits:4720
A mesh-covered passageway allows carnivores to move from their traditional enclosures to other points in the zoo through an elevated walkway—as visitors stroll beneath.
May 20, 2014—Philadelphia Zoo is (figuratively) breaking down the wall between visitors and carnivorous animals with its most recent installation. This month marked the opening of "Big Cat Crossing," an elevated walkway that enables such carnivores as lions, tigers, pumas, and jaguars to move away from their traditional enclosures, passing safely within feet of visitors to the zoo. The passageway is part of a larger network that allows a variety of species to stretch their legs and explore.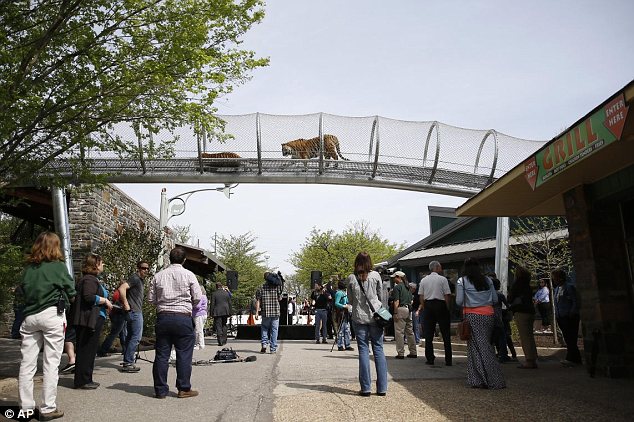 Big Cat Crossing is a 330 ft long, 5 ft tall mesh engineered passageway that extends from the zoo's First Niagara Big Cat Falls over the zoo's main path. Reaching a height of 14 ft above the ground, the passageway ranges in width from 3 ft 4 in. to 5 ft at different points along the trail. Three types of passages were designed; a Vierendeel box truss, a curving round chute, and a ground chute system.
"The idea is to build structures to allow the visitors …to have a better understanding of animals in a natural environment," says David Franseen, P.E., M.ASCE, the director of structural and architectural services in the structural engineering group at Duluth, Minnesota-based Krech Ojard & Associates, which served as the project's structural engineers. The structures enable animals to roam and visitors to observe "how animals express themselves in a more real-world environment," Franseen says.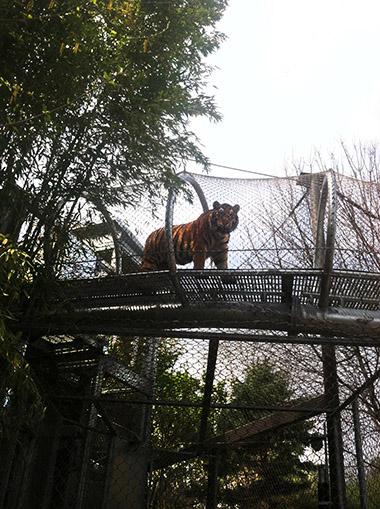 "From a structural standpoint, the idea was to support these structures and systems in a way that would optimize that viewing and/or animal experience," he explains.
"One of the challenges of this project is, of course, that we have to actually use applied principals of engineering, and engineering judgment, to determine what the applicable loads are," Franseen says. "There is no ASCE-7 equivalent for tiger loading or what loading a pair of lions imparts, right?" he says.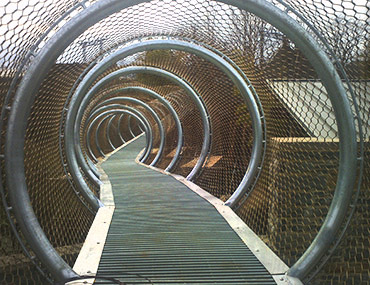 The crossing is the third installment of what is known as Zoo360, an animal travel and exploration system within the zoo
The crossing is the third installment of what is known as Zoo360, an animal travel and exploration system within the zoo. "Big Cat Crossing" will be used by such carnivores as lions, tigers, pumas, and jaguars. A thru Z
In creating this type of elevated walkway, which also serves as an animal enclosure, deriving load combinations to determine if elements are primary or secondary supports "is always a trick in that you're looking at mass, you're looking a momentum, you're looking at kinetic energy," he notes.
Because the behavior of the big cats within the walkway is likely to include large impacts as well as prying forces, the mesh that surrounds the walkway is very much part of its structural integrity, Franseen says, which led to a host of questions that had to be answered during the design process, Franseen explains. "You're trying to determine how instantaneous is this impact? Is it long term? How flexible is the system in theory, and how flexible is the system in reality? What happens if a single element is broken? Is that a loss of containment? Can we allow deformation in this location, versus that location?"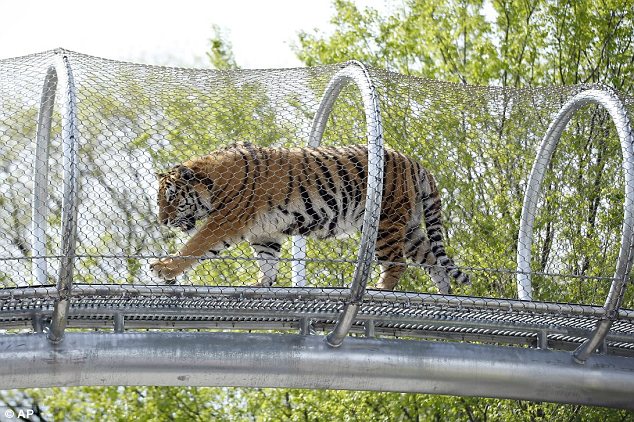 "It becomes a fairly complicated puzzle of structural systems in order to safeguard both the animals and the public," Franseen says.
In this particular project, answering these questions resulted in a crossing that in one direction acts as a cantilevered system and in the orthogonal direction is essentially a rigid portal-frame system that curves in both a vertical and a horizontal alignment, according to Franseen. "That curvature is really one of the key structural tricks here," he notes. Posttensioned anchoring was used to minimize movements and deflections.
A series of rings encircle the walkway, and the rings support the caging mesh. The mesh is formed from a stainless-steel material that is actually interwoven by hand, according to Franseen. "It interlocks and can't actually expand out of its dimensional shape, but it's flexible enough to allow these types of very undulating and curved shapes that you see [in the crossing]," he says.
A posttensioned strand that runs along the side of the mesh provides added strength to the sidewalls where the animals might lay. "Over long periods of time, laying in the same spot may actually make a depression, [and] if there is a tussle or some sort of large fight that occurs at that location, it may overstress individual mesh elements," Franseen says. "So in that case the strand is essentially the primary load-carrying element for that one load case."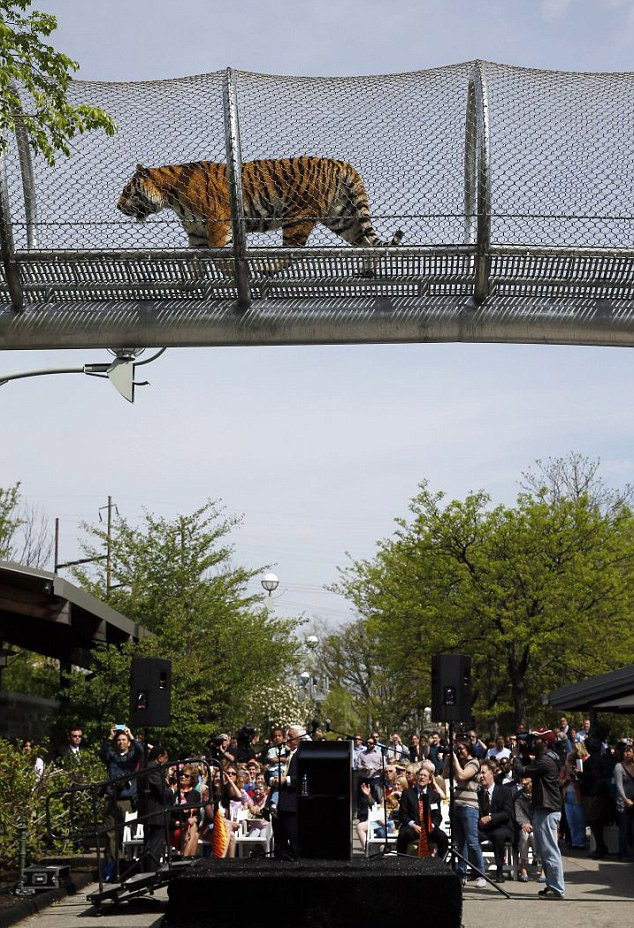 The entrance section for the crossing is formed from a series of tubular-steel bent uprights sitting on a shallow grade-beam foundation system, which together form the primary structural supports. The grade beams were chosen because they are flexible and can "float" above the area's tree root systems without damaging the mature trees. These supports then support cables that, in turn, support the stainless-steel woven mesh, which acts as the primary containment for the animals. "[The cables] impart catenary forces into the system, and those forces are resolved internally through a combination of small vertical and diagonal braces, as well as tension of the cable, and the compression capacity of the grade-beam system below it," Franseen explains.
The Philadelphia Zoo was the first zoo in the United States, originally opened in this location in 1874, according to its website. In that time, the site has been built and rebuilt several times. For this reason, a precise, three-dimensional laser scan of the site had to be created before the crossing could be designed and constructed, Franseen says.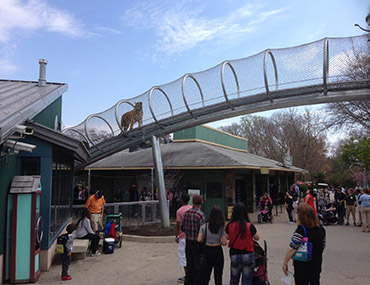 The 330 ft long, 5 ft tall mesh engineered passageway reaches a height of 14 ft above the main visitor path
The 330 ft long, 5 ft tall mesh engineered passageway reaches a height of 14 ft above the main visitor path and had to be designed to withstand large impacts and prying forces from the animals. Jeff Sawyer, CLR
An additional benefit of the scan was that it enabled the engineers, located in Duluth, to work closely with the Philadelphia-based architecture/landscape architecture/planning firm CLR Design despite their separate locations. "Being able to take that 3-D model and then to be able to work as if we're standing right in that space—[but] at a distance—and [to] be able to then talk with an architect who's also in an office someplace [was extremely valuable]," Franseen says. "Frankly, I'm not sure that it would have been possible to do the carnivore bridge to any degree of certainty without doing a 3-D laser-scan in this location," he says.
"The laser system that we were using shot just short of a million points per second, and we did about 19 different setups and locations," Franseen says. The images and data were then spliced together using Scene software, by FARO, of Lake Mary, Florida, and Revit, by Autodesk, of San Rafael, California.
The crossing cost approximately $2.3 million, funded by a combination of state and private sources, according to the zoo's website. The next phase of the Big Cat Crossing project will include a passageway that will allow the cats to venture farther along a lake and a primate preserve, according to Franseen.
Big Cat Crossing is the third installment in what is known as Zoo360, an animal travel and exploration system that ranges around the zoo. Treetop Trail, for monkeys and lemurs, opened in 2011. The Great Ape Trail, for orangutans, opened in 2012.